Learn More About Toronto Denture Centre
Welcome to Toronto Denture Centre! We are committed to ensuring you have a positive, comfortable experience from the moment you set foot in our clinic. Our staff is highly-skilled to offer you the most precise, advanced, and effective denture and dental health services in the GTA.
We take great pride in helping our patients get the smile they've always hoped for and we offer denture services in English, Spanish, and Portuguese. From denture services like repairs and relines, full and partial dentures, to dentures on implants, we're eager to partner with you on your journey to your optimal oral health.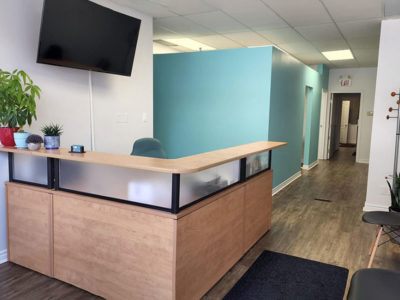 Meet Your Denturist, Andre DosSantos DD
Andre DosSantos, DD
Andre DosSantos was born and raised in Toronto, Ontario, and always had an interest in dental health. To follow his passion for dental care, he enrolled in the GBC Denturism program where he learned the skills he needed to restore smiles. After three years of hard work and perseverance, he used his skills and passion for helping people regain their confidence and smiles to make precision dentures. Andre successfully graduated from the George Brown College Denturist program and is now a fully qualified and licensed denturist.
Today, Andre pursues his passion for restoring smiles in the Greater Toronto Area.
Brought up in a multicultural family, Andre is fluent in Portuguese, Spanish, and also speaks basic French. Andre's passions extend beyond his pursuit to help people look and feel great with the best dentures. During his time off, he loves exercise, fitness, and maintaining a healthy lifestyle in general. Of course, his four-legged friend Max helps with this! Andre also has a passion for motorsports and enjoys modifying cars as a hobby.